The Gold Coast property market has experienced strong property growth over the past years. In fact, recent CoreLogic figures show property values on the Gold Coast have increased 1.9% in the three months ending in October to $529,112.
This made the Gold Coast one of the best performing regional markets behind Launceston (3.1 per cent), Illawarra (3 per cent) and the Mackay, Isaac Whitsunday region (2.5 per cent). Great news for GC home owners!
REIQ Gold Coast chairman John Newlands stated that strong property growth was a major milestone for the Gold Coast. He said the driving forces behind the increase was population growth and employment.
With experts predicting the the only way for the Gold Coast property market to go is up, let's explore some factors that are driving the Gold Coast property market forward...
more construction + jobs = demand.
Major developments on the Gold Coast have been transforming the city into what we'd like to consider – Australia's most beautiful city.
With a large number of new construction and infrastructure projects taking place on the Gold Coast and surrounding cities, there's been plenty of job opportunities available. Many are moving in to take advantage of the great Gold Coast lifestyle and new job opportunities. This of course is increasing demand for housing.
With higher demand, rental prices have been increasing. House prices have also been rising, however affordable opportunities are still available. Particularly on the northern end of the Gold Coast.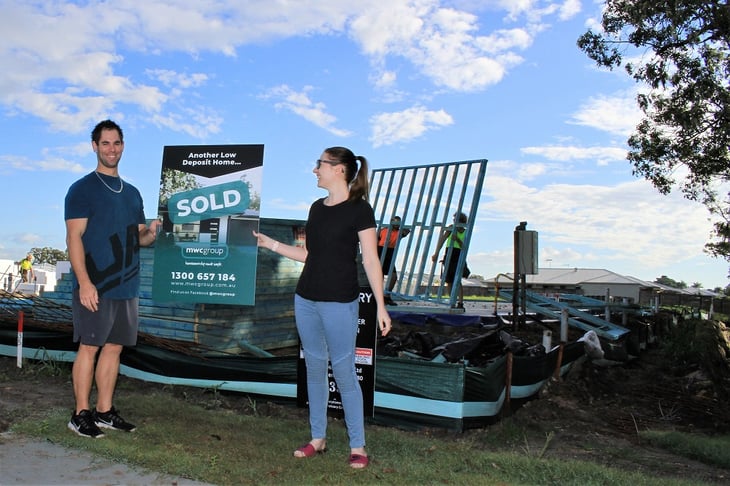 Photo: Matthew and Julia celebrating in front of their new first home as the frame goes up in Jacobs Well, Gold Coast. Source: MWC Group
low rates + $15k first home grant = buyers market.
With the Government first home grant of $15,000 available to first home buyers and home loan interest rates at record lows, many home buyers are keen to enter the property market before prices go up further.
Many home buyers are purchasing new homes off the plan. That's because the Government grant is only available for new homes. This helps to increase the demand for more construction jobs and increase property demand.
low aussie dollar + afforable property = foreign interest.
The low Australian dollar has been attracting more foreign visitors and investors which means more are travelling to the Gold Coast for a cost effective holiday. This is great for tourism and boosting our economy.
This also makes Australian property appear comparatively cheaper for foreign investors which is resulting in many seeking out a bargain.
Whether we like it or not, foreign investors have been buying our property and investing in major developments. This has supported job growth and continues to increase demand.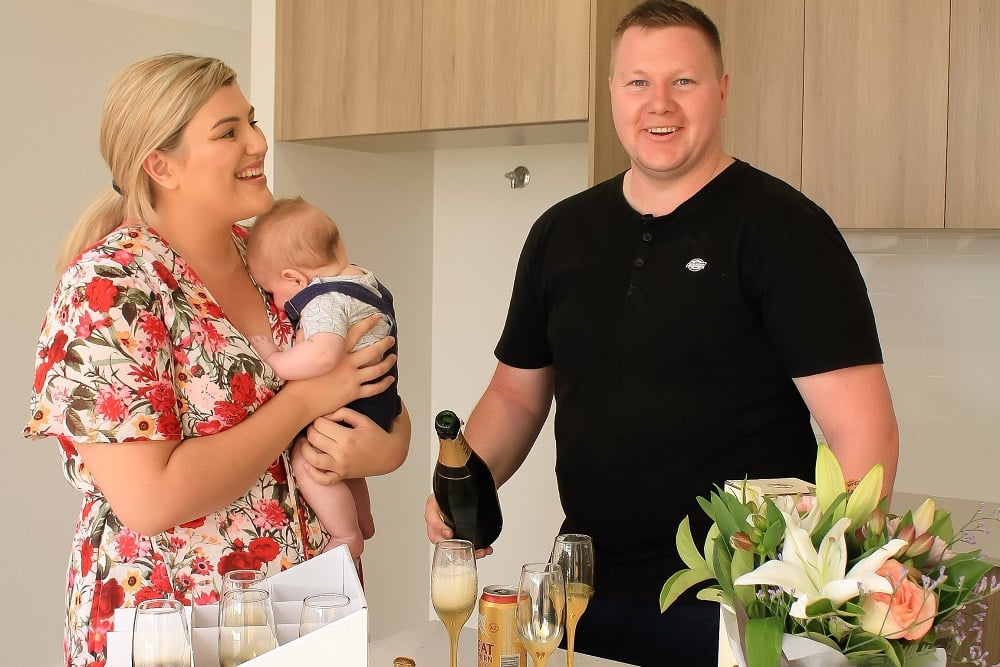 Photo: Stephen and Bridget celebrating the handover of their first home purchase in the fast growing Gold Coast suburb, Pimpama. Source: MWC Group
is the gold coast property market tipped for success?
A leading demographer, Bernard Salt has stated that the Gold Coast needs to prepare for a population of 1.2 million people by the year 2050. This will result in a much higher demand for property in future years.
Population growth, increased job opportunities and the low Australian dollar have all contributed to a better performing Gold Coast property market.
With industry experts expecting the Gold Coast to see strong continued property market growth, everything seems to line up for continued property growth on the GC.
If you're considering the Gold Coast for your next property purchase, be sure to do your research first. Seek professional advice before making any financial decision and make sure to purchase within your affordability.
Property is known to be a long-term investment so the sooner you're in the market, the sooner your home can grow in value!
free starter kit!
Considering home ownership? Our FREE Home Buyer Starter Kit is full of educational topics that will enable you to take confident steps forward as a home buyer. Get your free copy today!
Author: MWC Group © All rights reserved.